The Book of The Century is Here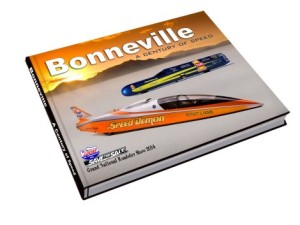 This new exhibition book by David Fetherston and Ron Main covers the collective history of Bonneville racing in a massive 302 pages. Created to celebrate 100 years of Bonneville racing,  the book covers the root of land speed racing in 1898 in France and sweeps to America with an overview of the Florida Speed Trials and the first known racing on the beach in 1914. The history, stats, and photos continue onward to the current season.
Interspersed in the history and stories are over 600 photos of the great Bonneville champions, including Mickey Thompson, Donald Campbell, John Cobb, Ab Jenkins, the Burkeland family, the Lattins, the Lindsleys, Les Leggitt, Al Teague, Scott Guthrie and the Burklands. You will close this book in awe at the wonderful historic collection of LSR streamliners, roadsters, coupes, production cars, and bikes.
 
Bonneville – A Century of Speed tells the tale dating from 1914, when a bunch of racers loaded a train in Salt Lake City with cars and spectators, and headed to the dry lake to see who could go the fastest. The historic details move on to relate the record- breaking events of every year of the National Speed Trials, which later turned into Speed Week.
David Fetherston is a historian, journalist and photographer, specializing in automotive subjects for magazines and books. He has been a prolific author and publisher with over 35 titles to his credit, including 1999 Automotive Book of the Year. Given access to seven major photo libraries, David Fetherston has been able to pick rare images that have not been published before or certainly haven't been seen in years, so you can look forward to seeing some great photos in this special 1st
edition book.
 Preview the Book: www.bonnevillecenturyofspeed.com 
The book "BONNEVILLE A CENTURY OF SPEED" will be premiering at the Grand National Roadster Show as a fundraiser for the Save the Salt Foundation. A portion of all sales of this book will go for salt replacement to help save our national treasure, the Bonneville Salt Flats.