June/July
Summer Months are a busy time here in North Carolina, not to mention hot, 95° in the shade.
A couple of the main things going on are the final development of a kid's carbon fiber version of our JL1 racing seat and of course getting ready for the Speed Demon to hit the salt.
We have had a lot of success with our JL1 seat and have been getting many inquiries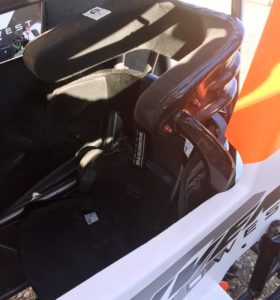 in regards to seats for the kids participating in events like  the Tulsa Shoot Out, http://www.tulsashootout.com. We're looking to have them available for this year's shoot out Dec. 27 – Jan. 1, 2018. Be sure to keep checking back.
Time is fast approaching for the Speed Demon to hit the Bonneville Salt Flats. Steve Watt and everyone on his team have been working feverishly to insure the Speed Demon is ready to go. The

Speed Demon has been a regular fixture for roughly 25 years. Last year was a great success for the Speed Demon Crew.
For anyone interested, Bonneville Speed Week will be Aug 12th-18th 2017.  Speed week consist of six days of racing, weather and conditions permitting. Entrants come from all over the world to participate in the weeklong event.
S.F.I 39.2 Testing
The SFI 39.2 Specification requires a demonstration that the product of a manufacturer meets or exceeds the requirements when the manufacturer enters the program; and on an annual basis thereafter. Kenny's Components is proud to say that our JL1 Carbon Fiber Racing seat has once again met these requirements.
The video below shows the testing on the JL1 Seat.
.